This week Border Action filed our response to the US government in our petition condemning the US from failing to prosecute vigilante groups on the border to the Organization of American States Inter-American Commission on Human Rights (IACHR).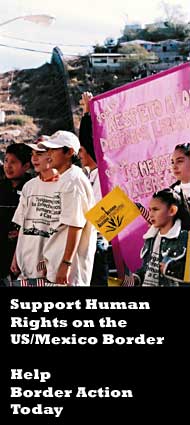 In April Border Action received an initial response from the US government to our petition. The US government claims that victims of vigilante violence can use local courts to stop vigilante violence. But when the local sheriff publicly praises vigilantes justice can be hard to find.
While Border Action has filed individual civil suits to bring attention to vigilante violence what we really need is elected officials to do their jobs and investigate and criminally prosecute vigilantes on the border. Tell Arizona Terry Goddard to prosecute border vigilantes. Send him an email at ag.inquiries@azag.gov.
Donations are needed to support immigrant-led human rights organizing in Douglas, Nogales and Tucson. Make a secure online donation to support the fight for human rights in the US at www.borderaction.org or send a check to Border Action Network PO Box 384 Tucson AZ 85702